Spiritual Head Of Tibetan Bon Religion Passes Away At 89
The 33rd Menri Trizin of Bon religion passes away at 89 in the fresh press release from Menri Monastery in India. The head of Bon sect of Tibetan religion has passed away this evening and people are spreading the news in commemoration of his death and sending prayers from across the world.
"On 14th September, 2017 at 6:25 pm the 33rd Abbot of Menri Monastery and the spiritual head of Tibetan Bon religion, His Holiness Lungtok Tenpai Nyima passed away at his residence in Menri Monastery, Dolanji in India." said the press release of the Yungdrung Bon Monastic Centre Society in their official website.
The press statement issued that statement with utmost sadness and the further information regarding necessary ceremonials and public visits will be issued in due time.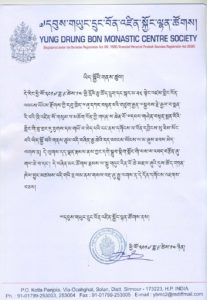 His Holiness the 33rd Menri Trizin Rinpoche Lungtok Tenpai Nyima had been suffer from health issues over two years in the past. He has been recently admitted to ICU at Chandigarh India over worsening health status. He has visited United States twice in the past two years for obtaining proper medical attention too.
However, the spiritual head of Tibetan Bon religion at the age of 89 passed away, leaving behind his legacy of reviving, preserving and propagating the ethnic Tibetan religion across the world. A brief summary of his biography can be found in the following link: