China Bans Everest Climbing For Rest Of The Year
China bans Everest climbing for the rest of the year according to news reports. The ban comes after a Polish man scaled the Mount Everest by entering into the region illegally. The mountaineering association informed that all the permits for climbing the Everest will be suspended for the rest of the year in order to improve the rules and regulations of the foreign climbers entering Tibet and Nepal.
The China Tibet Mountaineering Association (CTMA) declared in a notice on Wednesday that it will suspend climbing permits for all of Tibet, including other popular summits such as Cho Oyu and Shishapangma.
"In order to solve the series of above problems in time, and provide a good condition to all expeditions in 2018 … the climbing permits will not be granted in autumn 2017," CTMA said.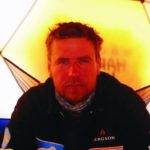 Janusz Adam Adamski, 49 is a Polish climber who scaled up the mount Everest from its North side which lie inside Tibet territory and descended Himalayan range to the South entering into Nepal without the permit worth around £8,500. This led to the association ban the climbing permissions for the rest of the year so that they could 'adjust and improve' the rules and regulations for the climbers and provide a good expedition for the climbers in 2018.