Dalai Lama Arrives In Assam, Way To TAWANG, Despite China's Opposition
The Tibetan spiritual leader, His Holiness the Dalai Lama arrives in Assam which lays his way forward to visit the Indian state Arunachal Pradesh bordering Tibet conquered by China. Assam Transport minister Chandramohan Patowary and Arunachal Pradesh Chief Minister Pema Khandu welcomed the Nobel Peace laureate at Borjhar International airport according to report in India Blooms.
"Friends, it fills my heart with unspeakable joy as the apostle of peace; embodiment of compassion; ocean of wisdom, His holiness the XIV Dalai Lama arrived at Guwahati today. It is indeed rare and unparalleled opportunity for the North East India to have the Living Buddha on its soil and be blessed. " said the official Facebook page of Arunachal Pradesh CM, Pema Khandu, "His Holiness will be in Assam till 3rd and then proceed to Arunachal Pradesh on 4th April. The long cherished dreams of our people is finally going to be realized by having His Holiness among our midst till 12th of April." he added.
His Holiness said that he was happy to be back to the region that revived his memories of escape from Tibet in 1959, after a failed uprising against Chinese rule.  "I still feel the feeling of that time," he said according to the Economic Times.
His Holiness will be spending two day in the state where he will be attending the concluding ceremony of the Platinum Jubilee celebration of The Assam Tribune today, He will be launching the Assamese translation of his first autobiography, deliver a speech during a programme organised by Krishna Kanta Handique State Open University in Guwahati on Sunday.
Irrespective of the continued pressure from the Chinese government against the Indian government for allowing the Dalai Lama to visit these regions of India, the 12 day visit has embarked from Guwahati on a very tight security. Despite unwavering opposition from China, India stands tall in allowing the Dalai Lama's visit to the northeast part of India.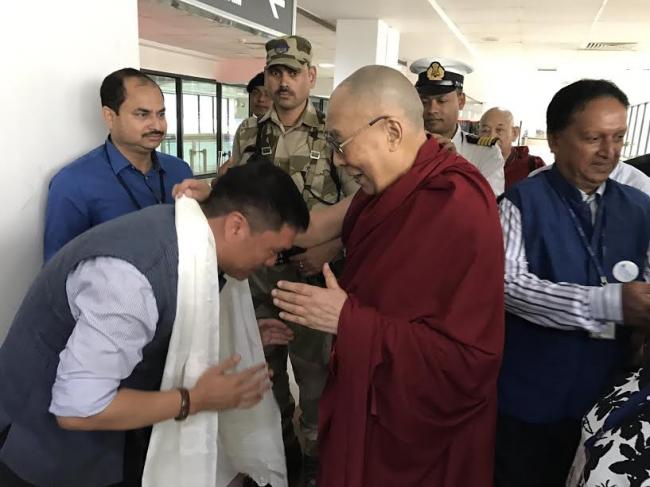 From April 4 the Dalai Lama will be visiting parts of Arunachal Pradesh such as Tawang, Itanagar and Bomdila. These regions of India that China calls as "Southern Tibet" are being claimed by China after invasion in Tibet. This border issue between the two Asian giants remains the strongest reason in pushing up to all limits for this visit by the Dalai Lama from both sides.