Dalai Lama Arrives In Arunachal Pradesh By Car
After the unpredictable weather conditions affecting the schedule of His Holiness the Dalai Lama's much anticipated visit to the North East state of India, he arrived in Bomdila by car. The stormy weather conditions could not deter the much awaited visit by His Holiness which must have meant the unwavering faith of the host people.
"This morning, instead of taking a helicopter to Tawa
ng, he set off by road from Guwahati with Arunachal Chief Minister Pema Khandu escorting him. By and large the rain held off and the road was clear." said the official website of His Holiness the Dalai Lama.
May be this was the fate of the local people who held pure faith and respect to His Holiness. While traveling along the road, the villages coming in the way, excitedly waited along the way to greet the Dalai Lama. His Holiness blessed the public gathered along the road and accepted the traditional offerings.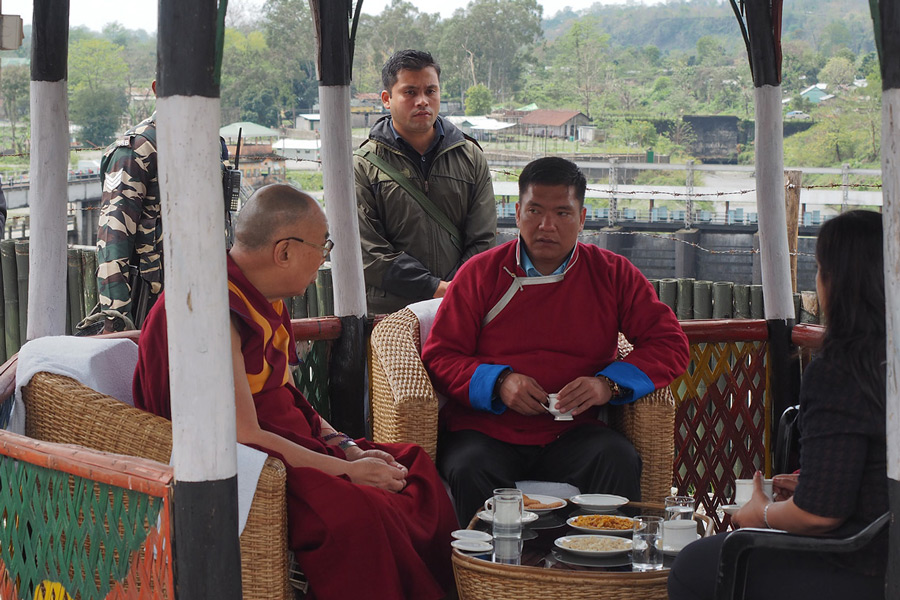 Stopping at the Tenzin Gang Tibetan settlement, where the lunch was served at the Gyuto monastery, His Holiness addressed the Tibetans gathered to receive his audience. "Speaking briefly to them he noted that Tibetans have been in exile for 58 years and that conditions in Central Tibet continue to be very difficult, although they are not quite so tough in Kham and Amdo. He praised the unflagging spirit of the Tibetan people and encouraged his listeners to be proud of their culture and the rigorous education that has been preserved in Tibet's monastic institutions. He mentioned that although life in exile has its sad aspects, he also appreciates the enriching of experience it has brought and suggested that those who eventually return to Tibet will take with them a broader vision than before. " said the report.
His Holiness arrived at Bomdila later that day to a grand reception by the local community. Thubchok Gatsel Ling Monastery, where His Holiness's stay has been arranged, paid his respects to the monastery before retiring for the day.