Dalai Lama Conferred Honorary Degree By University Of Pisa
His Holiness the Dalai Lama conferred honorary degree  by University of Pisa yesterday in Italy. The University conferred on His Holiness an honorary Master's degree Honoris Causa in Clinical and Health Psychology in a ceremony during the second session of Mindscience symposium.
"The morning was clear and bright today as His Holiness the Dalai Lama drove through the Tuscan countryside to reach the Pisa Congress Hall. As part of the ceremony to award him an honorary degree, he joined members of the faculty in putting on the robes of the University. The Rector, Prof Paolo Mancarella, escorted him into the hall, followed by the faculty members in procession." reported the official website of OHHDL.
Following introductory speeches by the Rector and Prof. Angelo Gemignami, briefly introducing and describing His Holiness the Dalai Lama's motivational contributions in the field of understanding psychology, the Rector conferred on His Holiness the honorary Master's degree.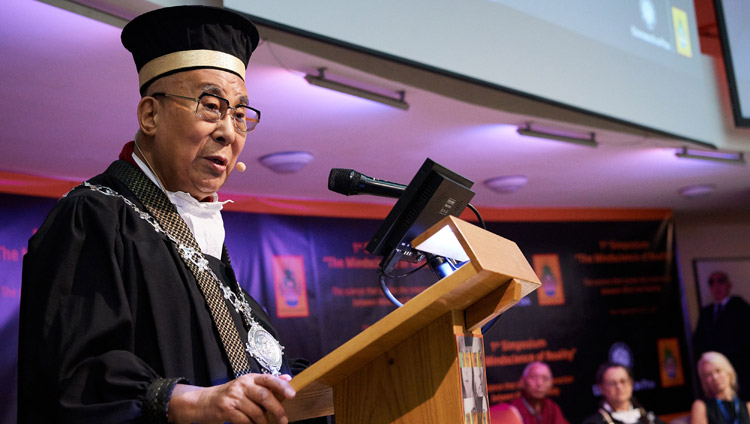 "The Rector then conferred on His Holiness the Master's Degree Honoris Causa in Clinical and Health Psychology and the hall was filled with applause." added the report.
"Respected scholars, brothers and sisters, I am deeply honoured to have been awarded this degree. I appreciate what the speakers have just said, but some of their praise was exaggerated. I consider myself to be one among 7 billion human beings. I believe having a sense of the oneness of all humanity is relevant in today's world. Too many of the problems we face pivot on a division between 'us' and 'them'." His Holiness said in the acceptance speech.
"The Buddha advised, 'As the wise test gold by burning, cutting and rubbing, so, bhikshus, should you accept my words—after testing them, and not merely out of respect for me.'" His Holiness added to describe that he has long admired the scientific approach.
"I count myself as half a Buddhist monk and half a scientist. This honorary degree gives me encouragement. I am now 82 years old and I pledge that in my remaining15-20 years I will dedicate myself to further fostering an understanding of the science of mind." added His Holiness the Dalai Lama.