Dalai Lama Delivered Public Talk And Commencement Speech At UCSD
His Holiness the Dalai Lama delivered public talk to an audience of more 25,000 people on Friday and gave the keynote speech at the All Campus Commencement of Saturday, both at the University of California San Diego, RIMAC field. While the Public talk was open to every people who were able to get tickets, the commencement was an invitation only event.
During the public talk on the theme, 'Embracing the Beauty of Diversity in our World.', the Dalai Lama was accompanied by Mayor Kevin Faulconer, who expressed that it was great day and a great honour to have His Holiness there to speak about diversity, Chancellor of UCSD Pradeep Khosla who introduced the Dalai Lama to the audience as an inspiration to develop compassion and TV journalist Ann Curry who convened the talk.
His Holiness also replied to the question asking his opinion on opposition by some Chinese students on his visit, "This is quite normal, I think they are not properly informed. They just believe what they've been told. For example, hardliners among Chinese officials describe me as a demon, and it must be clear to everyone that yes, I am a demon, with horns. They also call me a splittist and yet everyone knows that since 1974 we haven't sought independence. Tibet needs to modernize, we need material development, and remaining with the People's Republic of China can help with this. However, China could first do with a new Cultural Revolution, but one driven not by hatred as before but by compassion."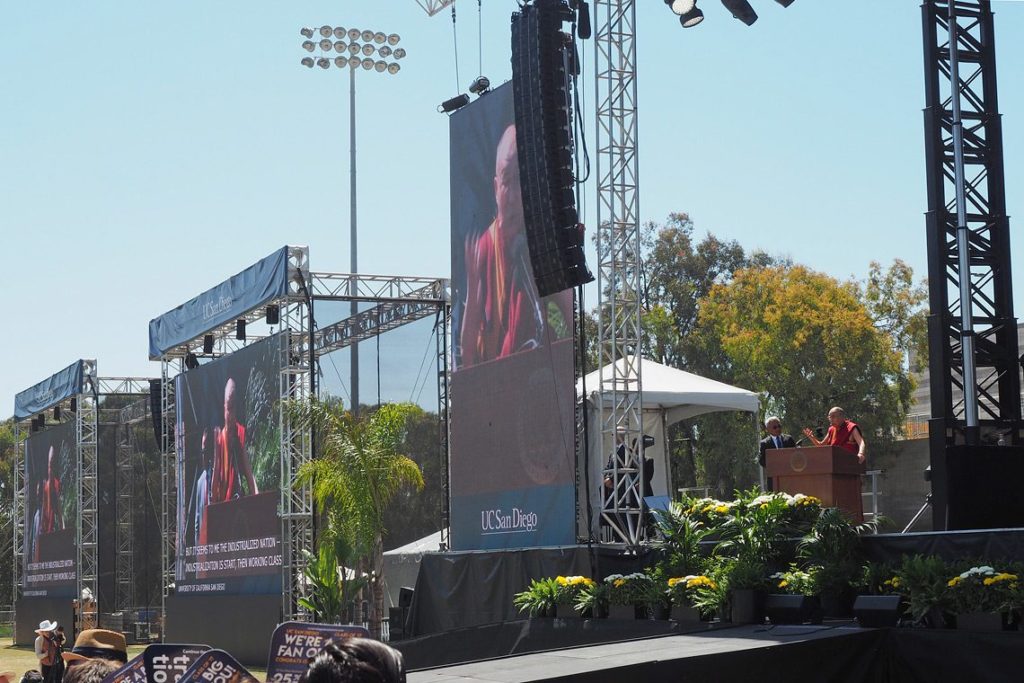 The Tibetan spiritual leader urged the audience to try to understand the fact that all of the 7 billion human being are the same and develop a sense of oneness so that we will not be swayed by the negative emotions that creates all the divisions and problems.
The 'All Campus Commencement' on Saturday morning was attended by around 9000 UCSD graduates besides an additional 15,000 guests. The keynote by His Holiness the Dalai Lama lasted for about 20 minutes and the audience whistled and cheered to his speech. This in contrary to China's opposition came out as a wondrous grateful event joyfully appreciated by the graduates and guests alike.
"Whether believer or nonbeliever. Whether this religion, that religion. These are personal matters. But knowledge about emotion, about [the] mind. This is relevant to entire human beings," the Dalai Lama said.  He explained that with a clear understanding of the system of human emotions, we will be at a better position to tackle negative emotions.
His Holiness explained that when we can tackle negative emotions, we can attain peace of mind and ultimately attain a peaceful family, community and humanity. He also stressed the graduates, teachers to pay more attention on deeper human values, i.e., compassion.