Dalai Lama Graces Golden Jubilee Celebration of CIHTS, Varanasi
The Tibetan spiritual leader His Holiness the Dalai Lama arrived in Varanasi on Friday and graced the celebration of the 50th anniversary of Central Institute of Tibetan Studies, Varanasi's founding on Saturday. His Holiness also spoke the inaugural remarks of the Conference on Mind in Indian Philosophical Schools of Thought and Modern Science at the institute.
Geshe Ngawang Samten, the Vice-Chancellor of CIHTS expressed their immense pleasure of His Holiness's presence at the proceedings of the special event in his welcome note. He welcomed the more than 250 alumni from different parts of the world who have come to attend a Conference on Mind in Indian Philosophical Schools of Thought and Modern Science and the formal celebration of the Institute's golden jubilee.
"As human beings we have a remarkable intelligence and yet we tend to put it to destructive use. We are prone to follow our centuries old habit of trying to resolve problems by resort to the use of force. According to the new reality in which we find ourselves, this is entirely out of date." remarked His Holiness in the remark for the inaugural of the conference.
He further told that instead of trying to resolve differences by force, it must be talked over in dialogue assuring that this is not any sign of weakness rather a realistic approach with wisdom.
""Modern education is dominated by material goals, with not enough time for inner values. Meanwhile, I have great respect for all religious traditions, which provide tremendous inspiration. However, Indian traditions that include the practices of shamatha and vipashyana have a particularly rich understanding of the workings of the mind and emotions. Vipashyana is about analysing reality while shamatha involves focussing our mental energy. Explanations of the workings of the mind and emotions are found in religious literature, but today they can be studied in an academic way." His Holiness further informed.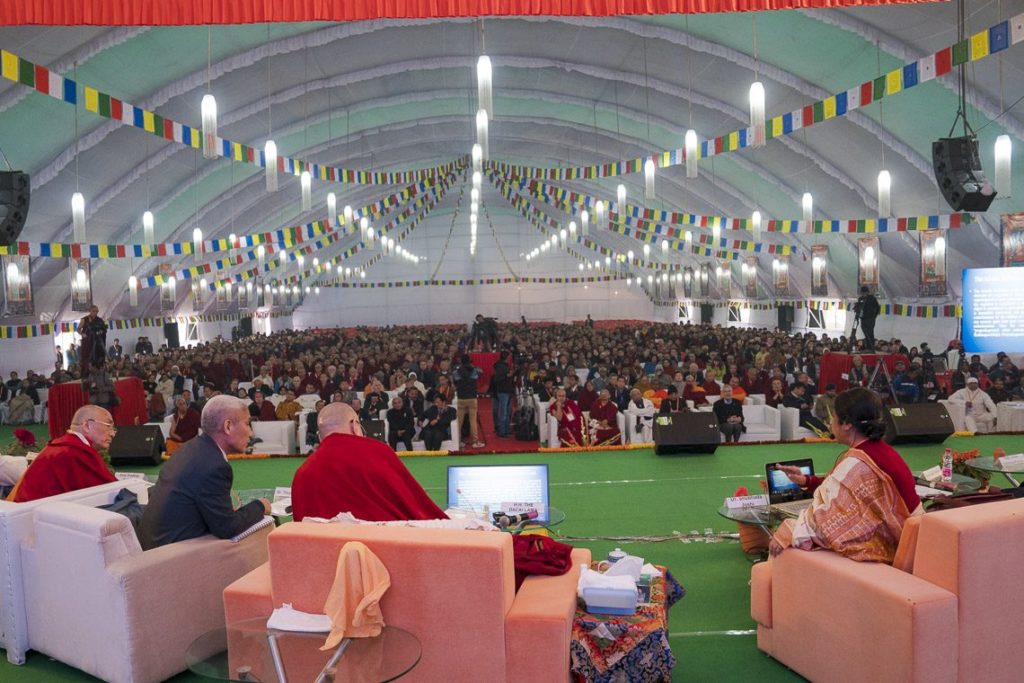 Prof Shubada Joshi who as Professor of Philosophy at the University of Mumbai, Prof Rupa Bandyopadhyay specializes in Advaita and Madhva Vedanta and Swami Atmapriyananda, who has a PhD in theoretical physics, is Vice-Chancellor of the Ramakrishna Mission Vivekananda Educational and Research Institute were among the among the first presenters at the first session of the conference moderated by Prof Jose Cabezon of the University of California, Santa Barbara.