Dalai Lama Inaugurates Sera Mey Courtyard And Gives Public Teaching
On the third day of His Holiness the Dalai Lama in Bylakuppe Tibetan settlement, he inaugurated and consecrated the Sera Mey Thoesam Norling courtyard today. Following the inaugural ceremony, His Holiness gave a public teaching Tendrel Toepa at the largest Tibetan settlement in India this morning.
"His Holiness the Dalai Lama inaugurated and consecrated the Sera Mey Thoesam Norling courtyard and gave teaching on Je Tsongkhapa's In Praise of Dependent Origination (Tendrel Toepa) this morning at Bylakuppe Tibetan Settlement." reported the official website of Central Tibetan Administration.
While congratulating the officials of the monastery for the success in providing a new courtyard, he also emphasised to focus more on the quality of education in monastery. His Holiness also expressed his special thanks to the Indian guests present at the ceremony reiterating that India is the living example of a religious harmony.
"India is living example of religious harmony. India's tradition of nonviolence and karuna has been there since more than thousand years. Wherever I always introduce myself as a messenger of ancient Indian thoughts. So I would like to thank you for coming to this inauguration ceremony," His Holiness told the Indian devotees according to the report.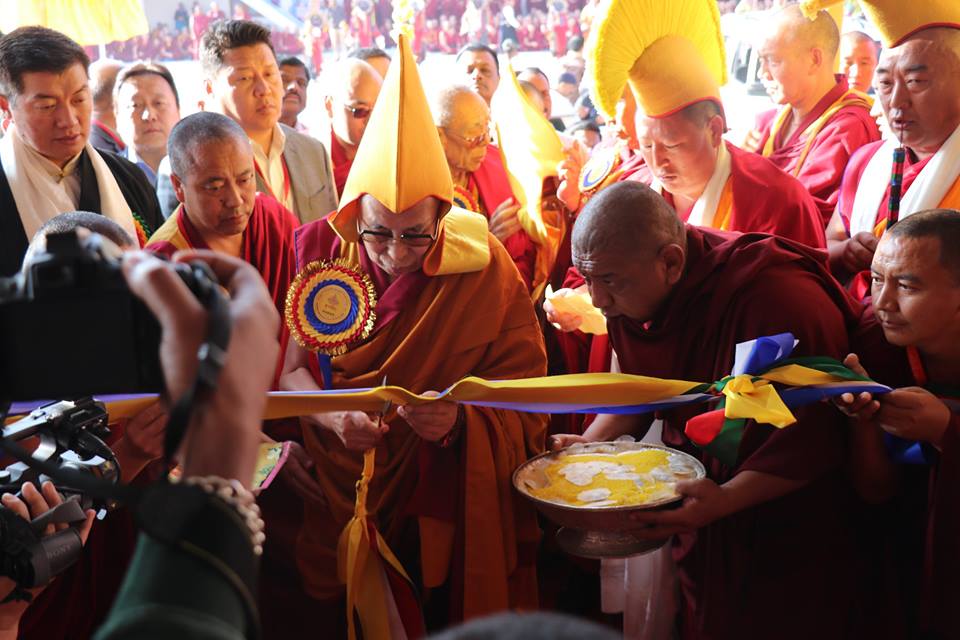 "Monastic institutes have been doing good and must continue with preservation and combination of both ancient and modern knowledge. We have potential to combine modern and ancient knowledge for wellbeing of humanity." His Holiness added.
Around 8000 people including monks and nuns, retired staff of CTA, students, guests and lay people were present at the inauguration ceremony. Gaden Tripa, Gaden Trisur, President Dr Lobsang Sangay, Khenpo Sonam Tenphel, Speaker of Tibetan Parliament-in-Exile, Jagadguru Sri Shivarathri, Sri Sri Dr Nirmalanandanatha Mahaswamiji, Khenpos, Settlement Officers and Chief Representatives were also present as per the report.
President Dr. Lobsang Sangay, TPiE Speaker Khenpo Sonam Tenphel and Sri Sri Dr Nirmalanandanatha Mahaswamiji also spoke at the ceremony congratulating the gathering on successful completion of the monastery's courtyard.