Dalai Lama Makes Maiden Manipur Visit
His Holiness the Dalai Lama makes maiden Manipur visit as he arrived to the state capital Imphal airport yesterday. The Dalai Lama embarked on his second visit to the north eastern part of India this year and it is his first ever visit to the state of Manipur in the north east part of India where he will participate in the International Peace Conference.
"Tibetan spiritual leader the Dalai Lama on Tuesday arrived in Manipur's capital Imphal on his maiden visit to the state, to participate in an international peace conference. This is his second visit to the northeast this year after he went to Arunachal Pradesh in April – but the first to Manipur." said the news report in NDTV.
His Holiness the Dalai Lama is visiting the state at the request of Speaker Khemchand who when visiting Dharamshala in Himachal Pradesh last month met with him. According to the report, His Holiness's visit is being met with high security arrangements to ensure a peaceful three stay in the region as a state guest.
Chief Minister N Biren Singh and Speaker Y Khemchand welcomed His Holiness as he arrived at the Imphal airport yesterday. His Holiness was given a luncheon at the Raj Bhavan, Imphal after his arrival and met the Governor of the state Shm. Najma Heptulla.
It is reported that His Holiness the Dalai Lama will be extended a civic welcome at the City Convention Center today and he will give a talk at an international conference on Peace and Harmony in the morning at the Imphal City Convention Center organized by the Speaker of the Manipur Legislative Assembly.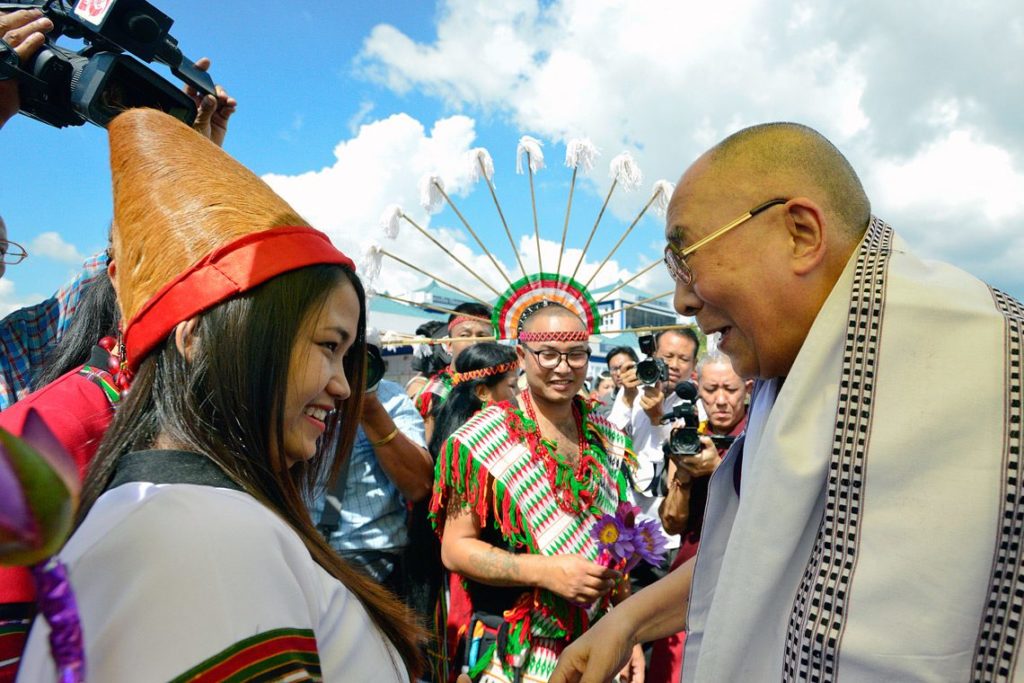 The prime objective of the International Peace Conference is to bring peace in the north-eastern states. With relevance to this news, His Holiness the Dalai Lama had made a 12 day visit to the stretches of Arunachal Pradesh, Assam and blessed the largely Buddhist populated state of India in April this year.