Dalai Lama Speaks At Convention For Global Peace Dharamshala
His Holiness the Dalai Lama today spoke at the Convention for Global Peace in Dharamshala this morning as one of the key note speakers. The Dalai Lama called that it is now time to revive the ancient Indian tradition to produce the likes of great beings like the Gandhi and the Buddha at the 'Convention for Global Peace in the Path of Buddha and Gandhi'.
"While Buddha and Mahatma Gandhi are individually very important but more important is what and how did they become such extraordinary beings. It is the ancient Indian tradition and knowledge that created such beings. In that respect, we have the same opportunity to become like Mahatmi Gandhi and Buddha. Now in modern time, more Gandhis and Buddha should be produced through a revival of this ancient Indian tradition," His Holiness the Dalai Lama told the gathering at the Dharamshala Government College while opening the three day peace convention.
"Only the Indian tradition focuses on training of mind and how to deal with emotions. Although thousand years old, these knowledge are still very relevant and is much advanced than quantum physics." His Holiness added while calling the younger generation to actually work at creating a more peaceful world not just praying for it.
In inaugural ceremony, His Holiness the Dalai Lama was accompanied by the former prime minister of Tibetan Government in Exile, Professor Samdhong Rinpoche.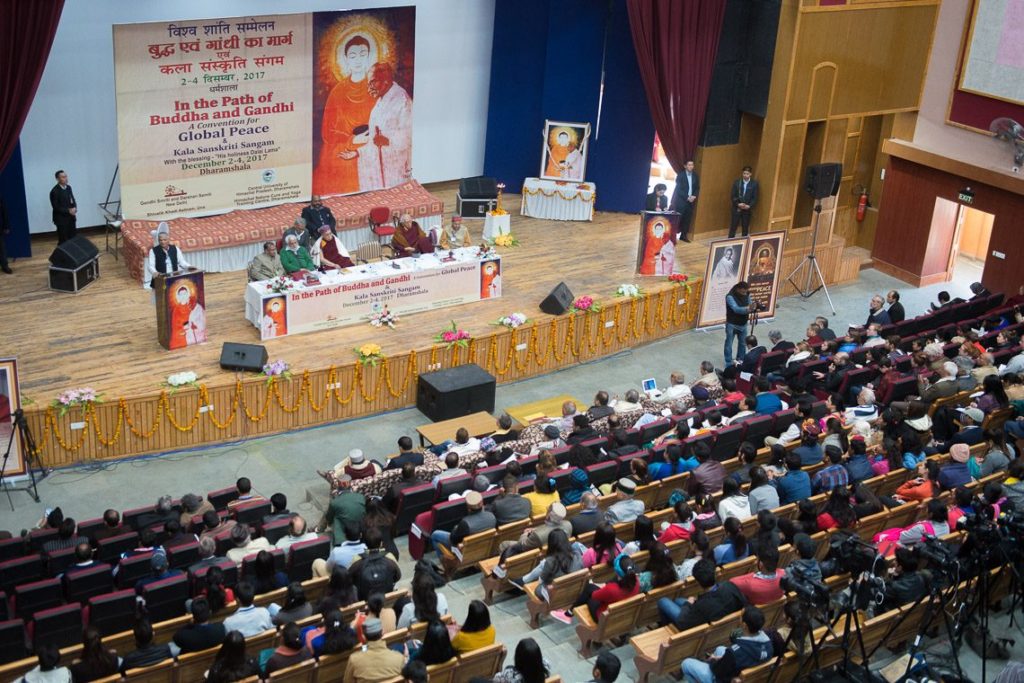 "His Holiness the Dalai Lama's three commitments are really a source of inspiration. He offered a number of very unique principles or philosophy, such as philosophy of universal responses, philosophy of art of happiness, how to bring peace, how to counter negative emotions not only by religion but through secular ethics," Rinpoche addressed the gathering.
The Rinpoche said that the Tibetan movement was not completely free from violence, but due to His Holiness' consistent advice, the entire 6 million people followed him and the Tibetan movement completely nonviolenct since 1967; inspite of all problems, difficulties and provocation, not a single case of violence indie or diaspora has been reported.
According to the report in Central Tibetan Administration, Global Convention in Path of Buddha and Gandhi is an august gathering of Buddhist and Gandhian scholars, dedicated to give an impetus to global peace efforts all around world. As a result of the meeting, the scholars will produce a proposal for global peace efforts which will be presented to UNO and international organisations for peace.