Dalai Lama's US Gatekeeper Suspended Over Corruption Complaints
His Holiness the Dalai Lama's US gatekeeper suspended over corruption complaints according to the fresh reports from the Guardian. The Dalai Lama's 'personal emissary' to United States has been suspended from the position over allegations that he abused his role and corrupted from charity.
"Yet the monk has now been suspended as secretary and trustee of the Dalai Lama Trust, a charitable organization chaired by the Dalai Lama, pending an investigation into allegations from a prominent Seattle-based technology entrepreneur who claims that, between 2005 and 2008, the monk abused his role to extract unjustified payments from him." said the report in The Guardian which opened the article describing that Tenzin Dhonden, the 53 year old US gatekeeper to the Dalai Lama has stood between the the Tibetan spiritual leader and the multitudes of US philanthropists, celebrities, scholars and officials eager for even an instant in the revered Buddhist leader's presence for the past 15 years.
However, the Buddhist monk Dhonden strongly disputes the allegations and to defend against such serious allegations, he will be defended by Patterson Belknap, a major New York City law firm.
"The Dalai Lama is said to have expressed "deep disappointment and concern" over complaints about his gatekeeper, which include the allegation he demanded payments in return for ensuring the spiritual leader appear at a major event in Washington state." added the report.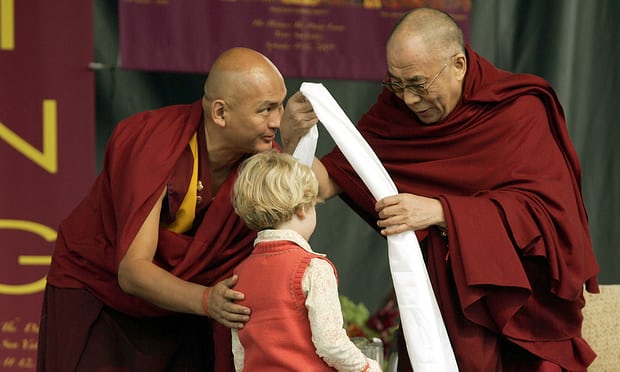 The law firm had replied to the news agency that the allegations relate to events that "occurred nearly a decade ago, are largely inaccurate and otherwise relate to conduct that is not unlawful, unethical, or even inappropriate". They added in the email the allegations have been "designed to falsely and unfairly tarnish" Dhonden's reputation. A source close to the monk said any payments he received were for legitimate work done and business expenses according to the report.
Despite there is no clarity in the matter yet, the report explains that Lama Tenzin, what he is popularly referred as in the US has been suspended from duties since the October 4 to reach to a conclusion over the allegations according to the Dalai Lama's personal secretary.
Daniel Kranzler, the Seattle businessman and philanthropist claims that despite he introduced Tenzin Dhonden to many high profile people like Steve Jobs, he singer Dave Matthews. His allegations are that he has been demanded of huge cash payments by Lama Tenzin for the Dalai Lama's appearances to events.
"These false allegations, raised after nearly a decade, are an attempt to unfairly tarnish Lama Tenzin's reputation," a representative for the monk said in a statement to the agency. "Lama Tenzin has lived a modest life, working tirelessly to organize public events, that have enabled millions to connect with the mission of His Holiness the Dalai Lama."
The statement also confided that truth will be revealed and the result will be positive.