H. H. The Dalai Lama Arrives In Ladakh Where He Will Rest For 2-3 Weeks
His Holiness the Dalai Lama left Dharamshala for Ladakh very early in morning yesterday with a brief stop in Pathankot where a group of Ladhaki school children greeted him. On arrival to the Kushok Bakula Rinpoche Airport, His Holiness was greeted by high lamas including Gaden Tri Rinpoche and many local leaders and ministers including leaders of Buddhist and Muslim communities with white scarves.
His Holiness took a 12km drive by road from the airport to his ladakh residence Shewatsel Phodrang. People lined along the route to welcome His Holiness and seeking his blessings.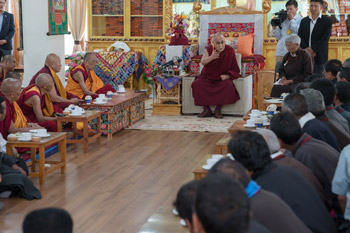 "Arriving at Shewatsel Phodrang, His Holiness' official residence in Ladakh, His Holiness assumed his seat in the small assembly hall below his residence where the lamas, local leaders, both civilian and police, as well as religious and community leaders gathered. Ganden Tri Rinpoche, the President of the Ladakh Buddhist Association, and the local Tibetan Settlement Officer made the traditional mendel tensum offering to His Holiness." reported the official website of His Holiness the Dalai Lama.
He requested the local leaders to consider introducing secular ethics; which he hoped would be completed by the end of this year, in the local schools in Ladakh.
"His Holiness informed them that he was planning to spend the next three to four weeks in Leh including a two-week rest period with no scheduled engagements." added the report in conclusion of it.
It is a relieving news to hear for all his followers as he has been tirelessly engaged in a increasingly hectic schedule for his age and we hope this period of rest in the beautiful part of the country, Ladakh, be a source for more energy to bless the world further.
photos: OHHDL