Iris Mittenaere Of France Wins Miss Universe 2016, Europe Wins Crown After 25 Years
Iris Mittenaere of France, a dental surgery student from North France emerged victorious at the recently concluded Miss Universe 2016 event. Final of Miss Universe 2016 was held at Manila, Philippines. It was a sort of reunion of former winners. India's Sushmita Sen, Miss Universe 1994 also sat as one of judges of this year's edition. It shall be pertinent to mention that Sushmita Sen won the Miss Universe crown in The Philippines. It was the first ever victory for India at the most coveted beauty pageant of the world, The Miss Universe pageant.
Iris Mittenaere, the 24 year old Parisian who is currently pursuing a course in dental surgery scored a very impressive victory. This is second Miss Universe crown for France. The last time when France won the coveted Miss Universe title was in 1953. Also, it is after 25 years that a European country has won the Miss Universe Crown, a pageant which of late has become a battle ground of the Latinas.
Miss Haiti Raquel Pelissier and Miss Colombia Andrea Tovar were announced first and second runners up respectively.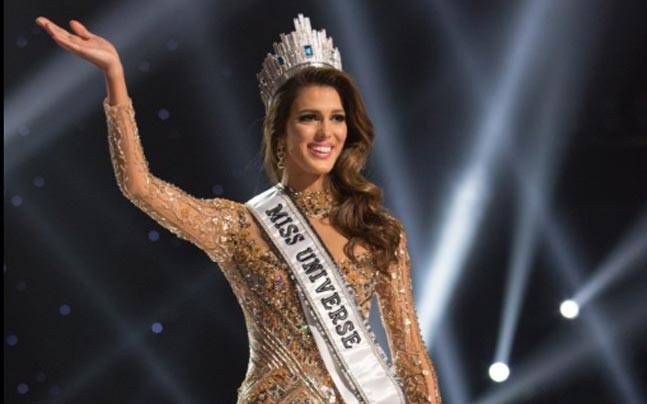 Miss Universe 2016 was marked by remarkable changes. This time 13 contestants were called as semi finalists instead of the usual 15 . The semifinalists in random order included Kenya, Indonesia, Mexico, Peru, Panama, Colombia, Philippines, Canada, Brazil, France, Haiti, Thailand and USA.
Another change was the emergence of Asian Countries. Philippines, Indonesia and Thailand made the first cut while Myanmar was announced as the winner in best national costume category.
Miss Universe 2016 was devoid of any controversies which have marred the previous editions of 2015 and 2014. Last year Steve Harvy had declared Miss Colombia winner by mistake instead of the real winner Pia Wurtzbach, Miss Universe 2015 of The Philippines which went viral on internet and was enacted by several users.
Iris Mittenaere was not among the front runners when Miss Universe 2016 started but gradually she made her presence felt. Her performance at the Miss Universe 2016 preliminary event was heralded universally by beauty pageant experts.
Shortly after her victory Iris Mittenaere came under spot light for speculations about her sexual orientation. She had to make a public statement and refute any such speculations. It appears that in future Miss Universe will be more focused on the performance and not the sash power of the beauty powerhouses, a term that is used for countries which have performed well at the beauty pageants.