Officiating CTA President Affirms $1.5 Million As Grant From Tibet Fund
During a media query today to the officiating CTA President, Ven. Yuthok Karma Gelek affirmed that the $1.5 million  was grant from the Tibet Fund. The Tibet Fund on Wednesday issued a statement in clarification to the issue arising over the $1.5 million loan taken by CTA in the year 2014.
While Dr. Lobsang Sangay led Kashag issued a ten point clarification in support of its decision in ousting the former speaker Penpa Tsering from the post of North America representative in the Office of Tibet, United States, the eighth point dealt with the $1.5 million issue.
"At the meeting of the Representatives of the Offices of Tibet held in Brussels in September 2016, Representative Penpa Tsering asked whether USD 1.5 million dollars from Tibet Fund used to purchase DC office building was a loan. In the presence of all other Representatives, Sikyong clearly explained that it was not a loan, but an amount that Tibet Fund had contributed and did not expect to be paid back." told the official explanation from CTA on November 18.
However, there has been discussions in the public following the revelation of Tibet Fund's account statement describing the same amount as a repayable loan from CTA. In such circumstances, the Tibet Fund on Wednesday released a statement clarifying the confusions looming about the $1.5 million.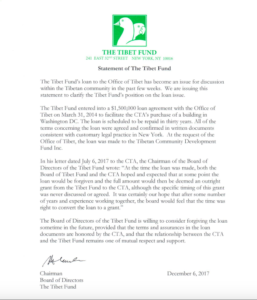 "The Tibet Fund entered into a $1,500,000 loan agreement with the Office of Tibet on March 31, 2014 to facilitate the CTA's purchase of a building in Washington D.C. The loan is scheduled to be repaid in thirty years. All of the terms concerning the loan were agreed and confirmed in written documents consistent with customary legal practice in New York. At the request of Office of Tibet, the loan was made to the Tibetan Community Development Fund Inc." said the statement from The Tibet Fund.
The statement also added that the Tibet Fund willing to consider forgiving the loan in the future provided that the terms and assurances in the loan documents are honoured by the CTA. While the media sought answers from the officiating CTA president, Kalon Yuthok Karma Gelek said that he is not aware of the conditions mentioned in the Tibet Fund statement. However, the officiating president affirmed that the amount is clearly a grant as far as the CTA is concerned.