Miss Tenzin Paldon Crowned 2017 Miss Tibet
Tenzin Paldon, 21 from Kollegal Tibetan settlement in South India has been crowned as the 2017 Miss Tibet yesterday. This year's version of the Miss Tibet contest was participated by nine young contestants hailing from across the world. During the finale event yesterday, the pageant director, Mr. Lobsang Wangyal announce Tenzin Paldon as the winner of the title.
"Miss Tenzin Paldon, 21 years old, from Kollegal, South India, was crowned the Miss Tibet 2017 at a packed TIPA Grounds in McLeod Ganj on Sunday evening to the cheers of thousands of young Tibetan enthusiasts." said the official Miss Tibet website.
2016 Miss Tibet Tenzin Sangnyi passed on the crown to the new winner Tenzin Paldon. While Paldon was crowned as the winner of the title, Tenzin Khechoe was announce as the first runner up and Tenzin Nordron was announced as the second runner up to the title.
"Paldon also won the Miss photogenic title, which was decided by online voting. Out of a total 14,285 votes, Paldon received 5,161 (36% of the total)." added the report.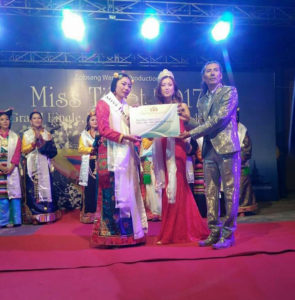 This winner of the Miss Tibet 2017 wins a cash prize of one lakh rupees and this prize for the current version is being sponsored by Tenzin Charlie from Taiwan. The first and second runners who will be rewarded with cash prizes of fifty thousands and twenty five thousands respectively. This amount for the current version of the event is being sponsored by Tenpa Dorjee from California.
This is the 15th version of Miss Tibet pageant which started in the year 2002 has been one of the most popular events to look at in the Tibetan head quarters Dharamsala. The pageant organized by Lobsang Wangyal has also been able send its winners to various international platforms hence creating significant awareness about the Tibet issue across the world. China has also been wary of the pageant's growing popularity and significance not only in the Tibetan community but also at the international stage.