This Happened In Majnu-Ka-Tilla: Robbers Rob And Beat Victim
A 41 year old French lady was beaten and broke her right leg at Tibetan Colony Majnu-Ka Tilla on 11th January, 2016 early morning around 5:00 am by two robbers when she was searching for her guest house. Isabella Prewila arrived Delhi's Majnu-Ka-Tilla that morning around 4:30 am by bus from Himachal Pradesh and she had reserved a room in one Majnu-Ka-Tilla guest houses.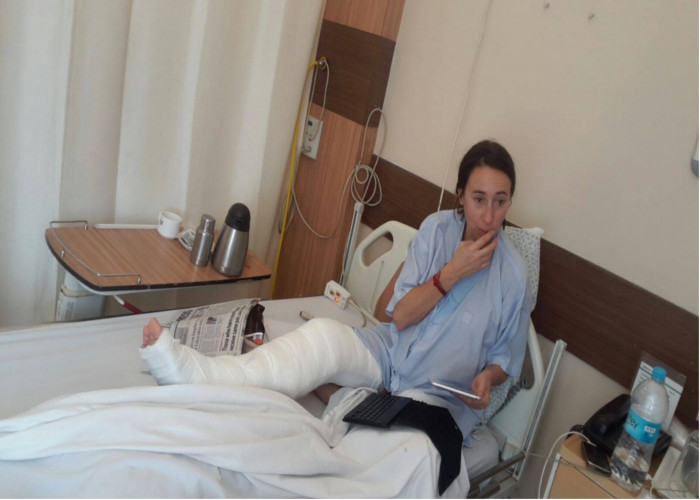 Prewila had befriended a Tibetan lady co-passenger during the journey and after arriving Delhi, she kept her luggage at the reception of the Tibetan lady's guest house and went to search for her guest house. Little while after looking across the narrow streets of M.T.(as Tibetans call it in short), she realized two young men stalking her.
They initially threatened her and when she fought back, they started assaulting her physically. The robbers slapped her and beat her that she suffered a broken right leg. When Prewila screamed for help, the robbers snatched her rug sack and fled from the scene. Immediately nearby people came to the scene and took her to the hospital.
The robbers Robin(22) and Saurabh(23) were arrested within 8 hours by the Police.
The incident is a strong warning to the concerning authorities as it could have happened with any other person. It is though still relieving to know that the robbers were not at all Tibetans. The incident happened in typically Tibetan traveller from Dhasa to M.T. situation and it especially depicts the danger a single lady traveller could be in.
Tibetan Journal is publishing this report to urge the authorities to make proper arrangements for security in this regard. Tibetans arriving Majnu-Ka-Tilla from Himachal and Uttaranchal require to walk along the desolate streets of MT which is very prone to crimes as robbery, rape and so on. Therefore a proper precautionary measure could be a very wise step in preventing such crimes.