Tibetan Girl Among Top Model Belgium Finalists
Tibetan girl among top model belgium finalists. A young Tibetan girl has made it to final round of the popular modelling platform, Top Model Belgium. Tenzin Zomkey has made it to the finalists of the event which becomes the first ever Tibetan to do so. The girl who originally hails from India will be contesting in the finale event that is scheduled for January 2018.
Tenzin Zomkey, who is just 15 years old has made it to the final 65 contestants of the Top Model Belgium. She has made to the top 65 finalists from the lot of 400 contestants after the voting carried out for the selection through SMS. The results came out on April 2 when they counted the results of the SMS voting that was carried out in Belgium, France and Luxembourg.
"She was shortlisted in the final 65 contestants from a total of 400 contestants on April 2 after vote count. People from Belgium, France and Luxemburg voted via SMS." said the news report published by Tibet Express.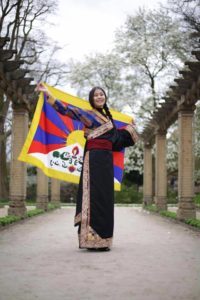 "Zomkey, overjoyed by the feat, is seen dancing and jumping in a video being circulated on the social networking site." added the report.
The final event of this contest will be held in January 21, 2018 in Paris. Miss Zomkey was belongs from Mundgod Tibetan Settlement from South India who shifted to India around 7 years ago.