Tibetan In Indian Army Dies During Parachute Training
A Tibetan in Indian army dies during parachute training said the police investigation carried out on the dead body of the jawan found on Sunday. The Tibetan origin Jawan of Indian Army was declared to have died of parachute malfunction during the parachute training carried out by Aviation Research Centre (ARC) in Cuttack on last Saturday.
"In an unfortunate incident, a Jawan of Indian Army died during parachute practice conducted by Aviation Research Centre (ARC) at Charbatia under Choudwar police station in Cuttack district on Saturday." said the report in The New Indian Express.
Tashi Dawa, who is 39 years old belongs to Bylakuppe Tibetan settlement in South India. He had joined the Indian army in 1995 and presently he was working as a jump instructor Aviation Research Centre (ARC).
Dawa went missing on Saturday evening while they were engaged in parachute landing practice at Sandha Padia, an open ground, under Mangarajpur gram panchayat. Personnel of National Disaster Response Force (NDRF), Odisha Disaster Rapid Action Force (ODRAF), Indo-Tibetan Border Police (ITBP), ARC and INS Chilka, who launched a search operation, found Dawa's helmet and a pair of parachutes near Haripur Dam, about 3 km from Sandha Padia. After a thorough search in the dam with the help of scuba divers, Dawa's body was retrieved on Sunday afternoon according to the report.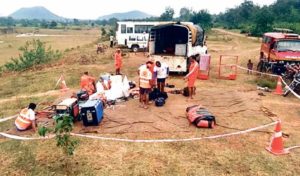 "Preliminary police investigation revealed that Dawa had jumped out of the airplane during training but his parachute did not open leading to his death as he fell inside the dam having water to its capacity." added the report after the postmortem.