Tibetans Warned of Dangerous Immigration Rackets
While the Tibetan refugee community is a struggle for identity and opportunity to seek a decent livelihood, migrating to the more developed countries like US, Canada and Europe came as answers. However, Tibetans have been on many occasion got trapped in the network of dangerous immigration rackets and the Tibetan administration has also warned against the prevailing crimes.
Central Tibetan Administration in Dharamshala which functions as the Tibetan government in Exile has a Department of Home that looks after the welfare of the Tibetan refugees in various Tibetan settlements. The department is reported to have directed their settlement offices to caution Tibetans in their locality of such prevailing fraudsters.
According to a notice issued in the interest of general public by the settlement office in Dharamshala, Department of Home, CTA, in the light of a recent incident where four Tibetan youths were scammed of huge amount of money in an immigration racket in the city of Guwahati, Assam. Tibetans in the locality have been cautioned to be aware of such prevailing immigration rackets. It added that in addition to looting the Tibetan youths of huge amount of money, they were severely beaten before they managed to escape and return to their home.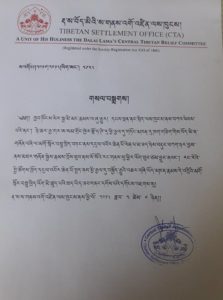 Young Tibetans are facing a crisis of livelihood options while living in these refugee camps located in remote parts of India. It is a very common aspiration to migrate to western countries like the US and Canada and this aspiration is being exploited by certain fraudsters by fooling these youths into their immigration rackets. Therefore the cautionary circular comes to make Tibetan refugees aware of such fraudsters.