Tibetans Will Never Forget India's Safety Provided to Dalai Lama
During a recent symposium held in the Indian city of Pune, a former minister of the Central Tibetan Administration has said that the Tibetans will never forget the safety provided for the Tibetan spiritual leader His Holiness the Dalai Lama by India. The Tibetan politician while commending India's peaceful attributes, warned of China's dubious tactics.
Former Minister at the Central Tibetan Administration in Dharamshala, Gyari Dolma while speaking at the symposium on "Tibetan Freedom and Indian Security", has said that India should rethink its policy towards China. It Should follow Sardar Vallabh Bhai Patel's position that was presented to Prime Minister Jawaharlal Nehru in 1950.
"India has maintained peaceful relations with China and even supported China's membership to the United Nations. However, China consistently failed to reciprocate similar attitude towards India. This is why India needs to rethink its policy towards China. When entire world reacted to Pulwama attack recently, the United Nations took four days to release any official statement. China was a key player in this delay and India should pay attention to China's dubious tactics." said Gyari Dolma at the symposium according to the report published by CTA.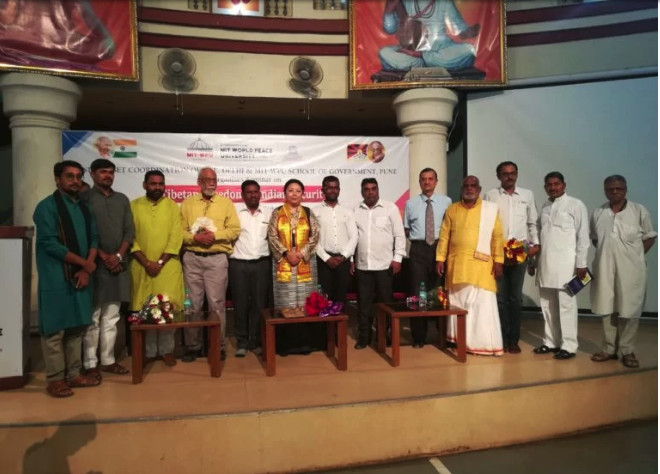 She further explained that Tibetans strongly believe they are part of India. "We will never forget the safety provided by India to our leader His Holiness the 14th Dalai Lama who is the ambassador of peace in the world.".
The symposium was jointly organized by India Tibet Coordination Office, New Delhi and MIT – WPU School of Government at MIT World Peace University, Pune on March 23, 2019. Dr. Shripal Sabnis, President of 89th National Marathi Literary Convention, Retired Brig. Hemant Mahajan and Dr. S. Parshuraman, Vice Chancellor of MIT World Peace University, Joint Conveners of National Tibet Support Groups – Arvind Nikose, Balasaheb Raste, Lokesh Chaitanya Maharaj, Vitthal Kadam, Anand Jadhav and Padmakar Holambe were other dignitaries present at the occasion.