Two US Mayors Called Upon Dalai Lama in India
Recently, the Mayor of Louisville in Kentucky state, Greg Fischer and the Mayor of Anaheim, California, Tom Tait called upon the Tibetan spiritual leader in the Himalayan town of Dharamshala during their 10 day visit to India. The two US leaders visited His Holiness the Dalai Lama to inform their respective initiatives at promoting compassion and kindness in their cities.
The Louisville city was first declared to be converted to a City of Compassion back 2013 when His Holiness the Dalai Lama first visited the city by Mayor Fischer while Anaheim has been committed at promotion of kindness among its population by declaring it as the City of Kindness. Though His Holiness had to withdraw his scheduled visit to Louisville for the Festival of Faith last year on the grounds of health, His Holiness was invited to grace the international conference on kindness and presided over the gathering of US Mayors in Indianapolis.
"Visits like this are great opportunities to promote our city," Fischer said, in a statement before the trip according to the WRDB News. "Our focus on compassion is something that resonates worldwide and is so relevant in today's world. And I always welcome…the chance to tell our city's story to potential investors and business interests that may be looking to expand in the U.S."
During the meeting, His Holiness the Dalai Lama was captured sporting a cap with 'Ali' tag on it referring to the Louisville boxing legend Muhammad Ali.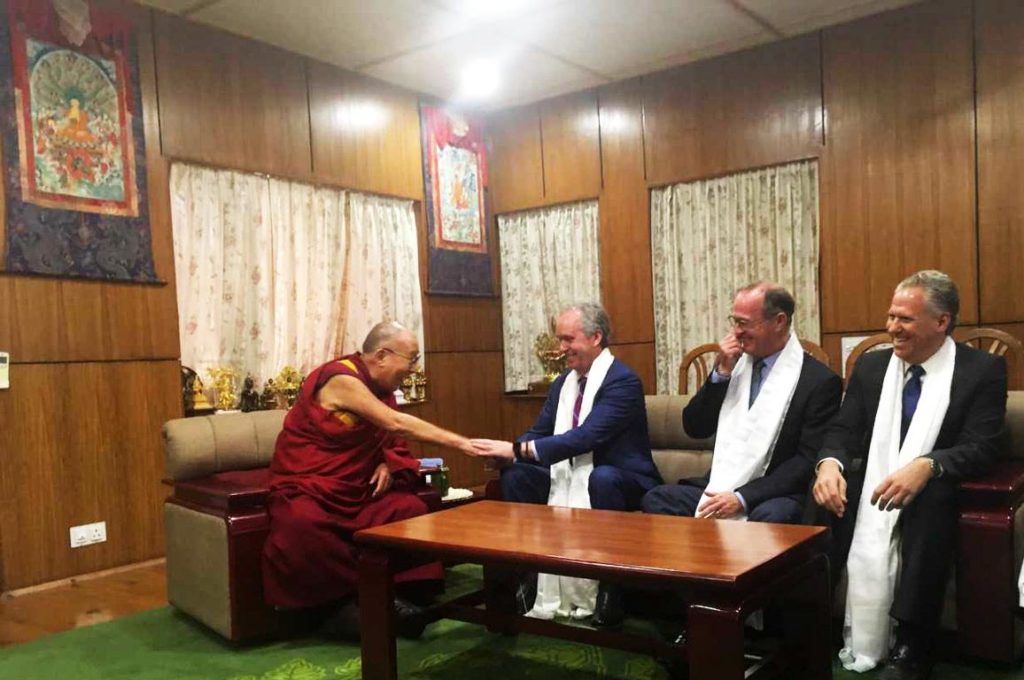 The trip for the two US leaders were funded by the US Embassy in India and during their 10 day visit to India, they were scheduled to meet with "government, business, media and thought leaders to discuss approaches to making cities safer and communities stronger amid the rise in violent extremist groups around the globe," according to Fischer's office.
The Tibetan spiritual leader has recently cut down his major schedules to the overseas owing to his increased exhaustion in making long distance journeys. His Holiness who is turning 83 this July has been increasingly consumed by invitations from across the world to grace various gatherings to promote his messages of love, compassion and kindness.