Violence, Starvation Exist Due to Negligence, Rich-Poor Gap: Dalai Lama
His Holiness the Dalai Lama while speaking in Bhopal, Madhya Pradesh said that violence, starvation exists due to negligence and a huge gap between the rich and the poor. The exiled Tibetan spiritual leader visited the Madhya Pradesh state of India to Talk on the Environment and Happiness.
"(In) today's world, (there are) lot of problems…From the major disasters (which are) beyond control. But many problems, mainly violence, killing and starvation, are due to negligence and (due to) a huge gap between the rich and the poor." quoted the Dalai Lama as saying in the PTI news report.
While highlighting the peaceful co-existence of people of different faiths in India, he said "Bharat, this country..I think (since) over 2000 years, besides homegrown religions, Christianity, Islam from outside have coexisted peacefully and remained…I think that is unique. This does not exist in any other country,". He also appealed the Indians to teach the greater world this unique possible co-existence.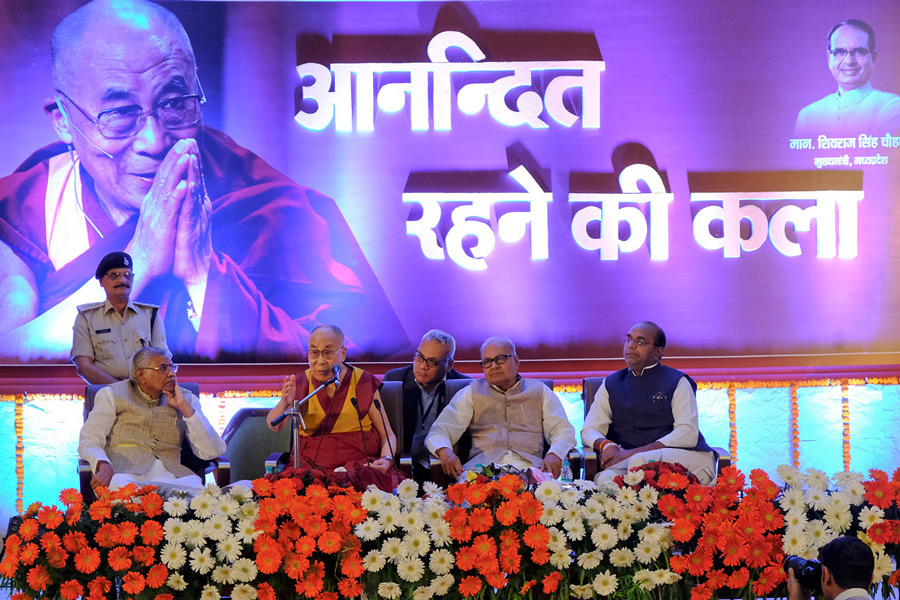 "All religions preach love and compassion. No religion says that God is full of anger. The God is full of love. We are children of such a compassionate father (God). Basis of all religions is harmony.. Mutual respect," His Holiness explained about the reality of every religion.
The Dalai Lama explained that all the violence, killing and starvation are man made, ignoring and remaining ignorant is perfectly wrong. Therefore every sensible human should not ignore that.
He told the gathering that religions act like the medicines to cure diseases but he also stated that he has never said that Buddhism is the best religion. Therefore our education system should be based on secularism, inner values, love and compassion, and not on any religion.