2015 Miss Tibet Runner Up Performs Tibetan Relpa Dance At Miss Asia
Tibetan participant for the Miss Asia pageant, Ms. Lobsang Kyizom who is representing Miss Asia Tibet performed the famous Tibetan traditional dance, Relpa at the pageant during the hidden talents round.
"Today it's all about the hidden talents! Since the very identity of a country and its people can often be felt and seen through their folk's music and dance, I am very proud to do a dance routine called "Bhö sharchok ki relpa." said the official Facebook page post of Ms. Kyizom
"I personally see it as a huge opportunity more than a competition to be able to showcase the jist of our beautiful culture and tradition through my dance to all the beautiful women across Asia and the members of the jury alike!" added the post.
Lobsang Kyizom is representing Tibet at the Miss Asia pageant being held in Kerala with a total of 18 contestants from different countries which includes India, Nepal, Bhutan, Singapore to mention a few.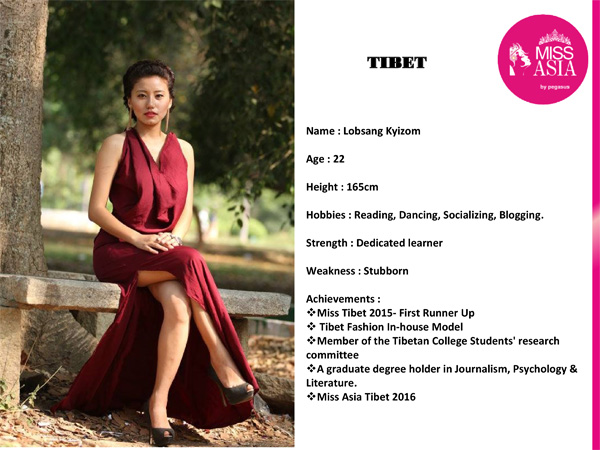 Lobsang Kyizom is a passionate Tibetan girl who has been involved in promoting awareness about the Tibetan cause in Bangalore City in South India where she completed her graduate degree and presently pursuing her master. She is the first runner up of 2015 Miss Tibet contest while she is also model of a Tibetan fashion house in Bangalore.
Do vote for her online poll in support of all her hard works and dedication she has put up for this pageant at: Miss Asia With all the best wishes, we hope she wins the show.