Dalai Lama Takes Part in Prayers by Bodhi Tree in Gaya
The Tibetan spiritual leader His Holiness the Dalai Lama on Wednesday took part in the Great Prayer Festival of the Nyingma Tradition by the Bodhi Tree, the very seat where lord Buddha attained his enlightenment. His Holiness made his third visit to the Mahabodhi stupa during his ongoing stay in Bodh Gaya, paid his respects to the statue of the Buddha by lighting a lamp.
His Holiness took his seat facing the Bodhi Tree and the Seat of Enlightenment and to his left, he was joined by other Lamas like Kathok Getse Rinpoche and to his right the current Ganden Tripa and his predecessor and others to take part in the Great Prayer Festival that began on Wednesday.
In association with the Prayer Festival, Namgyal Monastery had also organized a collection of prayers and praises to be recited in gratitude to the line of Dalai Lamas. There were two thangkas depicting the fourteen Dalai Lamas hanging in the front of their seating and they began to make their prayers.
Following the prayers, His Holiness the Dalai Lama met with a group of 170 professionals from Vietnam and told them on the importance of developing a warmheartedness and feeling of oneness of humanity.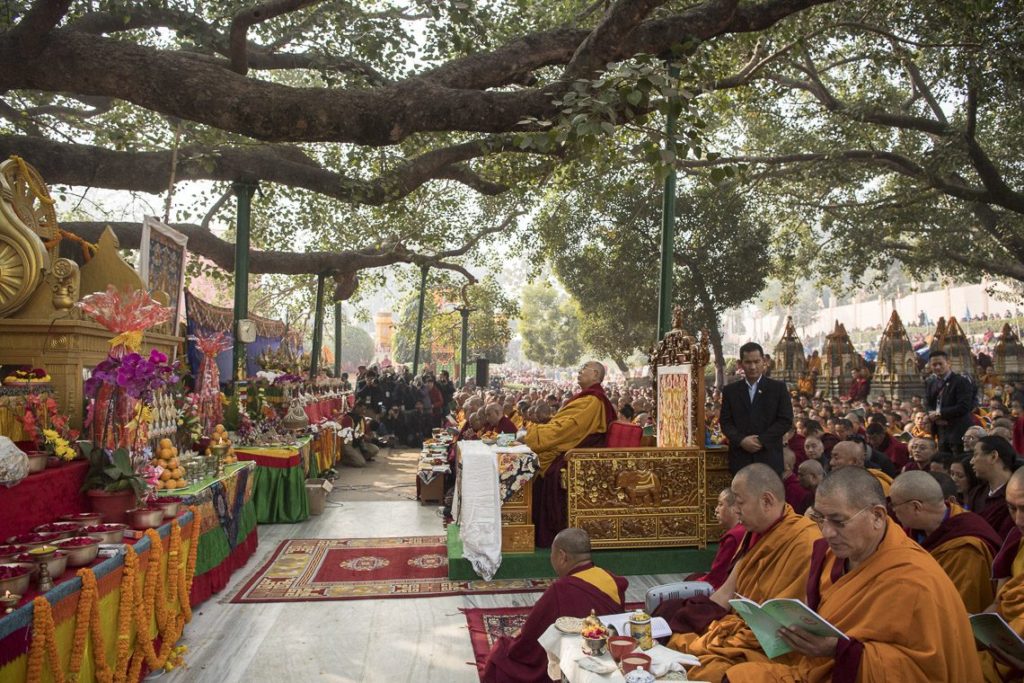 "To reduce anger we need patience and tolerance, but the most effective step is to cultivate warm-heartedness. In addition, it's important to think about the oneness of humanity—how we are all the same in being human. Because I think of myself as just another human being, with nothing special or different about me, whoever I meet I also think of similarly as another human being, no matter what their race, faith or nationality might be." told His Holiness at the meeting.
"Buddhists accept the idea of life after life and the key to achieving a good rebirth in the future is to lead your present life in a meaningful way. And that entails doing no harm and being of help to others." His Holiness added.