Dalai Lama's Visit to Sikkim Cancelled at Doctor's Advice
The Tibetan spiritual leader His Holiness the Dalai Lama's scheduled visit to the North East Indian state Sikkim in March 2018 has been cancelled according to the letter sent by his secretary to the organizers in the state on Thursday. The letter from His Holiness's secretary conveyed deep regret to have cancelled the proposed visit to the state in the second half of March this year.
"It is with deep regret that I must inform you that His Holiness the Dalai Lama's proposed visit to Sikkim scheduled from March 20 to 29, 2018 has been cancelled." said the send from His Holiness's secretary, Tenzin Talkha to IAS officer Ms. Samten Dolma, one of the organizers of the proposed program by His Holiness in the state.
The letter has explained that following the extended two-month visit within India taking in to 8 different towns and cities and this was long for His Holiness which resulted in him to experience exhaustion. Though His Holiness the Dalai Lama's general health is excellent according to the medical check up in Delhi, His Holiness's physicians have recommended that to cut down on his travels and not to exert himself.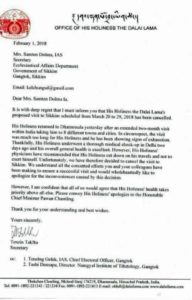 It was mentioned that due to the above reasons, the visit to Sikkim has been cancelled and his office expressed the apology for the inconveniences caused by the decision further requesting the Ms. Dolma to convey the apologies to the Honorable Chief Minister of Sikkim, Mr. Pawan Chamling.
While His Holiness the Dalai Lama returned to his temporary residence, Dharamshala on Wednesday a tour of several part of India wherein he spent almost a month's time in holy site of Bodh Gaya, His Holiness informed at the Gaggal airport that despite a exhaustion experience, he health in excellent condition according to his recent medical check up in Delhi.