Group Marches the Track of Dalai Lama's Journey to Exile 60 Years Ago
A group of people from Arunachal Pradesh and Assam have marched through the same track of His Holiness the Dalai Lama's journey to exile from Tawang to Tezpur 60 years ago. The march or padyatra was completed today when the marchers or padyatris arrived in Dharamsala, the home to His Holiness in exile.
The peace march initiative to march the 60th year of His Holiness the Dalai Lama stepping on the India soil was organized by the Core Group for Tibetan Cause, India, in collaboration with the people of Tawang and West Kameng district along with the monasteries and NGOs in the region.
The march by a primary group of 47 members that began on March 19 covered the regions of Gorsum Chorten, Lumla, Tawang, Jang, Senge, Dirang, Bomdila, Rupa, Tenga, Chaku, Khelong and Doimara and it prays for long life of His Holiness so that his message of peace & prosperity continue spreading across the world. The group has arrived in Dharamsala today to participate in 'Thank You India' event which will be held under the presence of His Holiness the Dalai Lama on Saturday.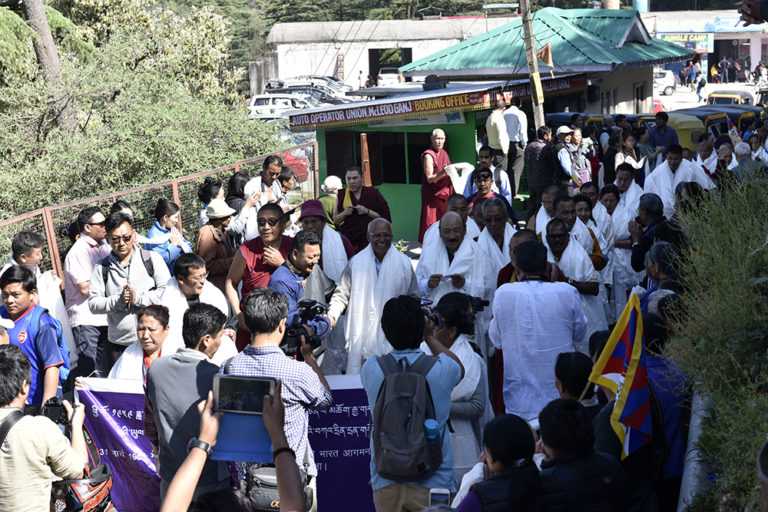 "Gangkar Tulku Rinpoche, Abbot of Tawang monastery, Shri RK Khrimey, National Convener, Core Group for Tibetan Cause, Mrs Rinchen Dolma, mother of present Chief Minister of Arunachal Pradesh Shri Pema Khandu, Shri Sandesh Meshram aka Samten Yeshi, Nagpur, Guru Tulku Rinpoche, former head abbot of Tawang monastery and Lhundup Choesang, Chairman of Tawang Core Committee members were among the leaders of the padyatra." according to the report by Central Tibetan Administration.
The Tibetan spiritual leader His Holiness the Dalai Lama left from Lhasa, the capital of Tibet on March 17, 1959 after a failed national uprising by Tibetans against the Chinese army to seek asylum in India. This March 31 marks the 60th year of His Holiness followed by thousands of Tibetans' arrival to India as refugees.