His Holiness Dalai Lama Meets Young Indian Scholars Group
The Tibetan spiritual leader His Holiness the Dalai Lama on Thursday met a group of young Indian scholars at the former's residence in McLeod Ganj, Dharamshala. A group of 22 young Indian scholars received an audience with the spiritual leader where they were urged to pay more attention at the ancient Indian knowledge of Nalanda tradition.
The group of Indian scholars are currently participating in a three-day Conference on Tibetan studies organised by the Tibet Policy Institute of Central Tibetan Administration in Dharamshala. His Holiness the Dalai Lama introduced to the group that the Nalanda tradition of knowledge kept alive in Tibet for thousands of years is not just a religious teaching but a tradition deeply rooted in reason and logic.
"While the precious knowledge that is the core of this tradition may have been forgotten in India, through rigorous study and practice we have kept it alive in Tibet for more than a thousand years. The Nalanda tradition is not just a matter of religious teaching. Within its philosophy and advanced psychology are effective means for dealing with our destructive emotions.  It is a tradition deeply rooted in reason and logic. Following the Buddha's advice to his followers to investigate what he had taught, great Nalanda masters like Nagarjuna and Chandrakirti examined his teachings in the light of reason and concluded that some were subject to interpretation and could not be taken literally." His Holiness the Dalai Lama told the group according to official report.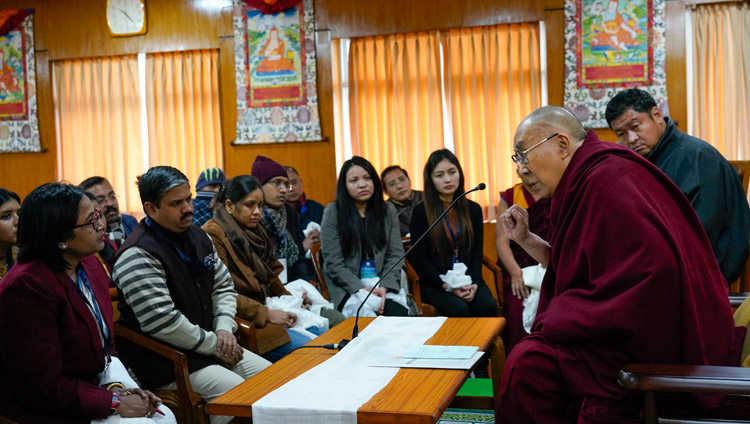 His Holiness also added that many of the problems we face today have their origins in destructive emotions. Ancient Indian knowledge of the workings of the mind can help us understand how to tackle such emotions. This is why he believes there is great potential in India to combine modern education with this traditional knowledge to beneficial effect
The participants comprise of Professors, Assistant Professors, PhD and M Phil from 13 different universities and institutes like Madras University, Saheed Kshudiram College of West Bengal, Manipal Academy of Higher Education, Gandhigram Rural Institute, Indian Institute of Technology of Madras, Nalanda University, South Asian University, Delhi University, Punjab University, Jawaharlal Nehru University, Vivekananda Institute of Professional Studies of New Delhi, and Banaras Hindu University.