Little 'Ice Boy' Highlights the Height of Rural Poor in China
The viral image of a little kid, called as Ice boy in China's south-western province of Yunnan showing frost on his hair and eyebrows recently depicts the fact that not enough help is being met to help the poor children and the rural families in China. An eight year old child's journey from his home to school captured in images just told the story as it went viral in the social media.
The 8-year-old boy, Wang Fuman walked to his school in Ludian County while the temperature was only about -15° Fahrenheit. Little Wang had no hat, and was wearing a thin jacket when he set out on his 2.8 mile trek to his school. The school principal shared the picture of the kid with his frozen hair and rosy cheeks after reaching the school an hour later. In addition to that, his hands and feet were swollen to almost double their size from the journey.
Despite such poor conditions, Little Wang is reported to have been in good spirits, sharing good will with his class mates while his classmates laughed at him. The story was on the first day of the final exams and it was report that he had even excelled in the exams despite all the odds.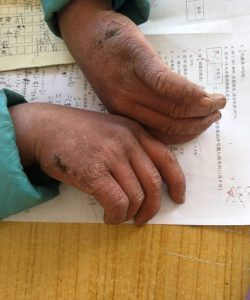 The little boy has been found to be a "left-behind child" – one of tens of millions of Chinese children who rarely see their parents as  they have moved to cities to find works to support them. The 'Ice Boy' called in the social media is reported to be living with his grandmother and sister in a mud and brick home.
Though strong supports came out from everywhere to the village, with large amount of money to provide better clothing to for the Children and provide heating system at the school, Little Wang's story prompted a huge outcry in Chinese media that there is a significant need for more help to done to the left-behind children.