Major Tibetan Soccer Tournament Coming Up in Dharamsala
A major Tibetan soccer tournament is coming up in Dharamsala as per the announcement made by the largest Tibetan non-government organization, Tibetan Youth Congress (TYC) on Friday. The TYC is planning to organize this sports competition in the Tibetan exile as a campaign to promote unity and health among the Tibetan youth.
The organization has also added that the tournament is being held as a campaign to Thank India for their support to the Tibetans over the years. The Central Tibetan Administration in Dharamsala has kick started this year as a year long campaign to thank countries across the world for their support to the Tibetan cause.
"Tibetan Football Tournament to promote unity and health awareness among the youth as well as 'Thank India' for their support to Tibetans over the years. The tournament will feature friendly games on the side between Tibetans and Indian friends to foster and strengthen our relationships. Join the action. Spread the word." said the official website of the TYC.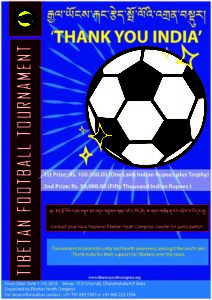 According to the announcement poster which we have also shared here, the organization has announced a cash prize of Rupees 1,00,000 to the winner of the tournament while the runners up will be rewarded a cash prize of Rupees 50,o00. The deadline for the registration of the teams for the tournament that will be played at TCV ground in Dharamsala is mentioned as May 5, 2018.
Soccer is one of the most prevalent sport played in the Tibetan exile community and evidently, the recently concluded 24th Gyalyum Chenmo Memorial Gold Cup GCMGC saw a very strong competition among more than 18 different teams from across the world. Though DYSA Mundgod Football Club beat the Gangtok Football Club in the final of the tournament, most of the teams were equally competitive. Therefore it is expected that this tournament will also be strongly contended by these teams.