Secret Tibetan Settlement Visit Led To Expulsion Of Chinese Journalists
After Indian government refusal to extend visa of three Chinese journalists belonging to Xinhua News Agency, a mouthpiece of the Chinese government and the subsequent unfolding drama that followed, there is yet another twist to the story.
According to a story published in Hindustan Times, a government source said two of three journalists who were denied visa extension, Lu Tang , and She Yonggang, based in Mumbai visited Tibetan settlement in the southern state of Karnataka without revealing their identity last year.
Sources had on Saturday told Hindustan Times that the journalists came under the "adverse attention of security agencies" for allegedly indulging in activities beyond their journalistic brief.
There are four major settlements in the southern Indian state of Karnataka which house more than 40,000 Tibetans and it is not yet clear which settlement the journalist had visited. It is not uncommon for foreign journalists to visit and interview Tibetans, but a protected area permit (PAP) is required for such purpose which is issued by the Union Home Ministry.
Initially, the move was seen by many as a government response to the blockade of its entry to the member of the Nuclear Supplier Group by China.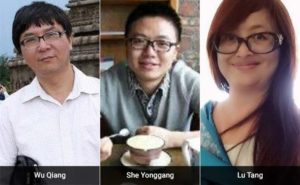 The incident has enraged media house in the neighboring country where deporting and visa denial is a common practice to deter journalists from publishing stories critical of the state policy.
In December 2015 Ursula Gauthier, a French journalist was denied visa extension following the publication of a report alleging state repression of Muslim Uighurs in Xinjiang province and Austin Ramzy, a New York Times journalist was forced to leave China after the publication of stories about the wealth of Wen Jiabao and president Xi Jinping's families.
The Global Times, a state-run media in China, accused India of reacting to China move on not backing India for its membership to the nuclear supplier group and warn its neighbor country of serious consequences and repercussions.