Tibetan Keeper Awarded Best Goalie At Sikkim Gold Cup
Tibetan keeper awarded best goalie at Sikkim Governors Gold Cup 2017 at the Paljor stadium in Gangtok. The Tibetan NSA's goal keeper Tenzin Samdup who made great saves for the team in the tournament who although finished their campaign at the quarter finals was awarded the 'best goal keeper' during the closing ceremony on Sunday.
"The Tibetan National team's goalkeeper has been awarded the 'best goal keeper' honors at the 37th All India Sikkim Governor's Gold Cup in Gangtok's Paljor Stadium yesterday." said the news report in Phayul.
"Tenzin Samdup, the young custodian from Mundgod played a big role in the Tibetan team's win against CRPF Jalandhar in the group stage game, which ended in a penalty shoot out in the favor of the Tibetan team." added the report.
Tibetan team was knocked out of Sikkim Gold Cup in the quarter finals match with the 8 time title holder of the tournament Mohun Bagan by a single goal on Tuesday. The match between the Tibetan National Soccer Association and Mohun Bagan to the excitement till the last minutes of the game where the winning goal was scored in the dying minutes of the game.
Tibetan keeper
Samdup also awed the audiences with his keep skills when he saved the Tibetan team several times against the gigantic Mohun Bagan during the quarter final match only conceding a single goal during the 90th minute of the game.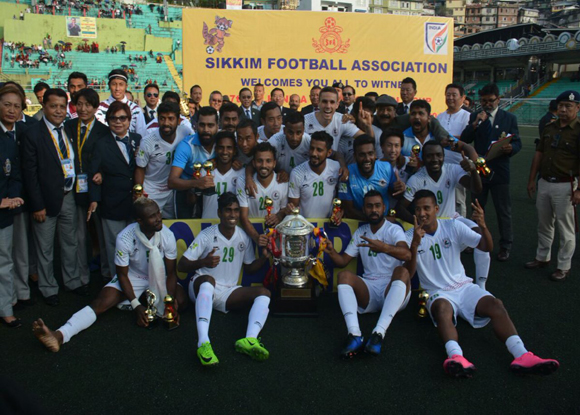 Mohun Bagan won the tournament after they beat Customs Club by a solitary goal to clinch the 37th Sikkim Governors Gold Cup Trophy at the Paljor Stadium in Sikkim. Bagan's star forward Ansumana Kromah scored the only goal for his side to take his side home.