This Tibetan Model Takes Fashion World by Storm!
The pictures of a model who is being described as a Tibetan origin girl has become viral and she has taken the fashion world by a storm! As can be seen easily, her unique features of physical appearance has made her discussion even more interesting as people have started to associate and appreciate it according to her Instagram account.
Known as 'Tsunaina' to the world, the model who based in Europe, specifically reported to be currently living in the UK has become a very famous fashion icon not for streamline body but for her beautiful eyes, chiseled jawline, unconventionally unique nose bridge that resembles that character of the alien in the Hollywood blockbuster, 'The Avatar', visibly spread moles and the luscious lips.
Though our attempt to contact the model remain unanswered, her identity of being a Tibetan has been assumed out of her frequent use of Tibetan words in her social media posts. The featured image used above also features the model in a regular Tibetan traditional attire.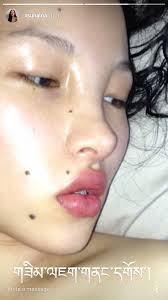 Besides, a report in the Lastestly.com said that the model was born in Tibet and currently living in the United Kingdom. It also added that Tsunaina found her way into modelling by a mere stroke of luck, scouted on the street by a modelling agency.
The model has walked the ramp at popular events such as London Fashion Week many times. Her captivating look has also signed high-profile brands like Christian Dior and ELLE. Besides the model not being visibly active on the social media, her Instagram account that has only 17 posts till now is being followed by more than 200k people, with large number of likes and comments on all her posts.