Burmese Man Paints Dalai Lama, Others Inside Bottles
A Burmese man has acquired a very rare skill and paints the portraits of His Holiness the Dalai Lama and other prominent figures inside bottles through the opening hole of the bottle. There are many more complicated paintings done inside various sizes of bottles and sells at good prices to the tourists who come to Bagan looking for famous ancient stucco murals.
"50-year-old Yaw Na Than is one of an about 10 bottle painters in the entire country. Using little angled brushes, Yaw Na Than painstakingly paints his own unique designs on the inside of clear glass bottles, in reverse. His home gallery in Nyaung-U, near old-Bagan, is filled with bottles of all sizes adorned with detailed portraits of Vincent Van Gogh, Salvador Dali, Mahatma Gandhi, and the Dalai Lama as well as more traditional scenes of monks, rural men and women and the iconic Bagan landscape." said the report about Yaw Na Than in the Myanmar Times on Monday.
According to the report, bottle art or inner painting as it is often referred to, emerged from China in the 18th century. At the time, snuff, a powdered tobacco, was popular in China and beautifully decorated small snuff bottles considered a sign of power and wealth.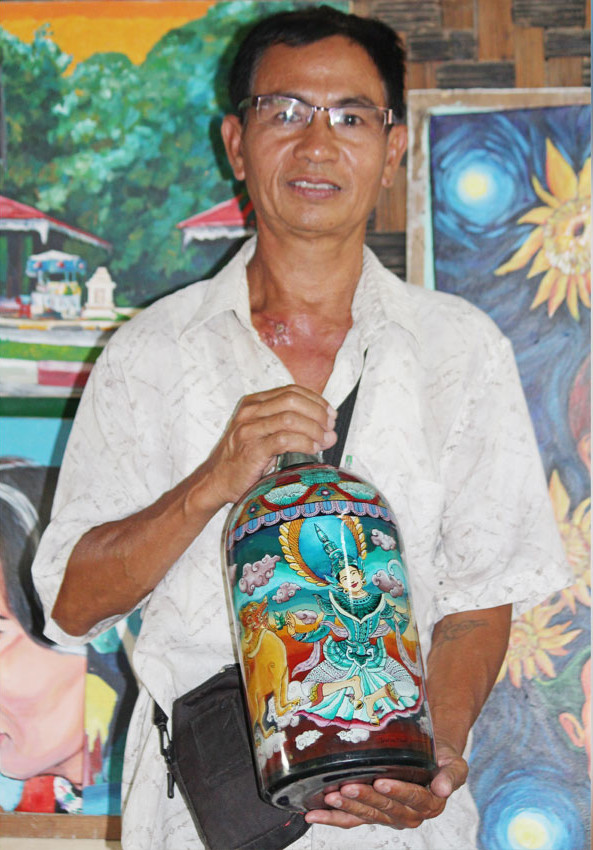 Yaw Na Than's teacher, U Nyo Lay, Myanmar's most famous bottle artist, began producing the art form here in the 1980s.