New York Times Mocks India's Record Setting 104 Satellites Launch And Gets Befitting Reply 
It seems that New York Times cannot appreciate any positive news from India. Two years after it apologized for mocking India's Mars Mission, the American tabloid has yet again tried to question India's recent record breaking satellite launch of 104 satellites using PSLV37. In a thinly veiled insult it tried to point that majority of these satellites were light weight and hence the record was shallow in nature inasmuch as it comprised small satellites.
It shall be pertinent to mention here that back in 2013 when India became the first country ever to successfully place an orbiter in Mars' orbit in its maiden attempt; the response from New York Times was even more disparaging. It published cartoon showing that it still subscribes to certain preconceived view of India, and it is not ready to acknowledge the potential and success of Indian scientists. India, by launching 104 satellites, including 96 from USA and many other 'western' countries set a new record for maximum number of satellites launched using same launch vehicle. Even arch rival Chinese media applauded India's spectacular success in space mission coming at a fraction of cost of similar operations in other countries.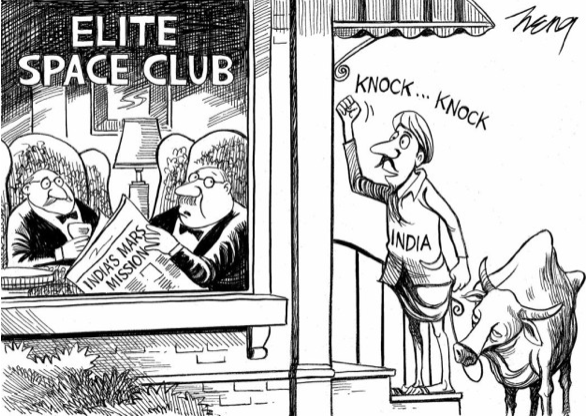 But this time tells a different a story. On the lines of the above cartoon, The Times of India, noted English Daily of India published a befitting reply to the New York Times. It is worth mentioning that Donald Trump has already blasted The New York Times for biased reporting and manipulation in connection with recently held Presidential Election which he won scoring a 'Surprise' victory despite New York Times predicting 85 percent chances of  Hillary Clinton's victory.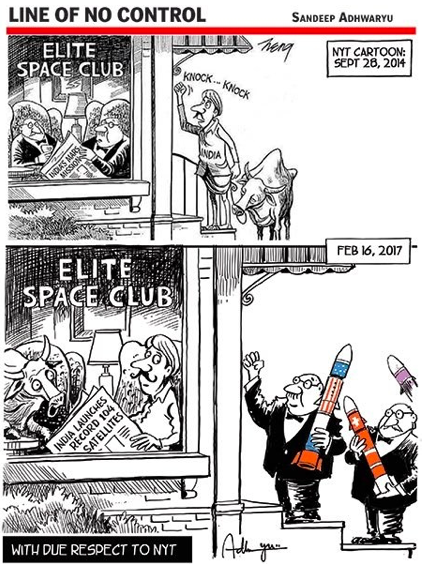 Twitter was also abuzz with responses in retaliation to New York Time's mocking of India's record setting 104 satellites launch using PSLV 37.  Many users took a dig New York Times reminding it of Donald Trump's recent remarks on the Tabloid calling it "Fake News".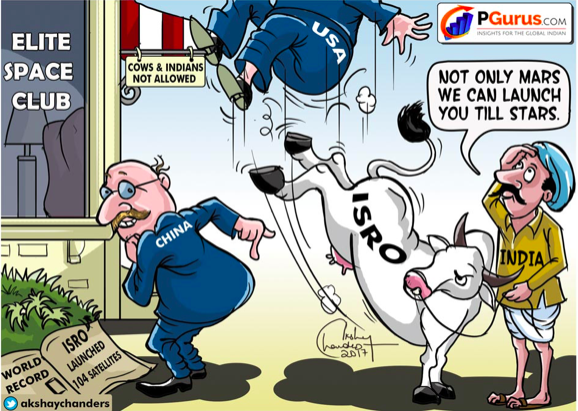 Despite being a developing India has pursued difficult space missions and has successfully completed many at a cost which is barely a fraction of similar endeavors of western countries. The condescending attitude of western media shows that they are yet to come to the terms with a fact that India values academic and scientific learning and this shall continue with even greater rigor. Such demeaning remarks of a so called 'leading newspaper' will only trigger more efforts manifesting in bigger success.
Though New York Times did applaud this feat for ISRO, but the tweet once again revealed their deep seated insecurity and hatred of India. In past as well they have tried to discount the remarkable success of Indian American children at spelling bees by calling them 'rote learners' but the fact remains that Indians have outshined the native speakers of the language very comprehensively.
We congratulate the scientists at ISRO and expect The New York Times to do better next time.