Tibetan Markets Distribute Many Woolen Items Among Poor
Tibetan markets in the Indian city of Udaipur has distributed an extensive amount of their woolen items among the poor in commemoration of the Human Rights day yesterday according to the report in Udaipur Times. The Tibetans doing their sweater selling business in the city celebrated the Human Rights day and the Nobel Peace prize day with such a humanitarian act.
"Vendors in the Tibetan market in Samor Baag Udaipur initiated an act of humanitarian values on the International Human Rights Day on 10th December. The vendors decided to distribute 10 thousand woollens among children, females, aged persons and others who are helpless and cannot afford to buy woollens for themselves." said the report in Udaipur Times.
The Tibetan spiritual leader His Holiness the Dalai Lama irrespective of the religious beliefs carried by any individual has always called out for the development of a warm heart showing kindness and compassion towards others. He always describes that the basic human nature is compassionate and teaches to develop it throughout the world. This act of the Tibetans is a perfect example of his teaching.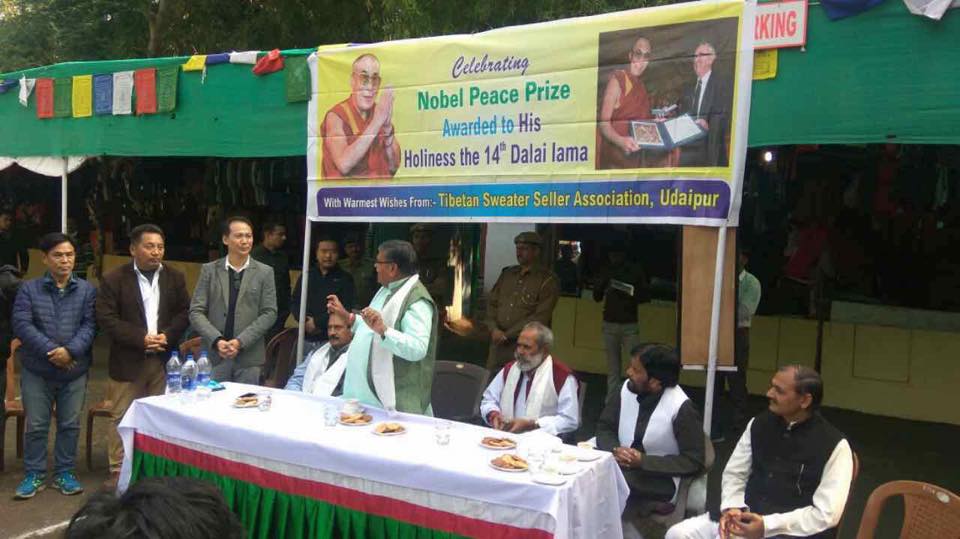 Around 50 Tibetan families initiating this kind act by collectively distributing sweaters, shawls, and jackets to the needy people in Jhadol, Falasia, Kotda and other tribal regions who can not afford to buy these for themselves. This humanitarian effort was applauded by the local Ministers Gulab Chand Kataria, Phool Singh Meena and Mayor Chandra Singh Kothari.
Every year, Tibetan immigrants travel to different cities of India to trade in woollen garments owing to limited land cultivation in the remaining months. They buy garments from wholesalers based in Ludhiana and Delhi in June and July. There are around 146 regions across Indian where there are Tibetan markets setup every year incorporating over 3,300 families, register under the All India Tibetan Refugee Trader's Association (TRTA).