Prohibitory Order Upon Protests Against Tibetan Refugees
A prohibitory order upon protests against Tibetan refugees by the Students' United Movement of All Arunachal (SUMAA) has been issued by the District Magistrate of West Kemang District of Arunachal Pradesh from Bomdila on Monday. The students group has been carrying out a protest against Tibetan refugees since the beginning of this month leading to unrest in the region.
The students union in addition to demanding rollback of Tibetan Rehabilitation Policy 2014 (TRP) from the State it also demands the Tibetan committee to furnish a family tree-cum-records of all Tibetan refugees settled in Arunachal Pradesh and a clarification in written from the representatives of the Tibetan population that they would not ask for 'citizenship' in the future.
During the course of their protests, reports of forceful collection of donations, threats & intimidation to members of the business community of Bomdila and other markets perpetrated by the said activists has led to widespread fear psychosis in the community ultimately forcing a shutdown of the Bomdila market between July 13 to 16. The group has also threatened to initiate another phase of agitation from July 25.
While various members of community based organizations and the members of community from various parts of the state condemned the student group's protest pledged to thwart any undemocratic acts of the student body in the future, District Magistrate's prohibitory order intends to bring about peace and stability in the region. Various organizational bodies from the state issued their letters of solidarity and support towards the Tibetan refugees.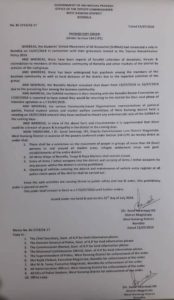 The prohibitory order as signed by the DM, Dr. Sonal Swaroop, IAS summarizes as following points;
restriction on movement of people in group of more than 4 persons in and around all market areas, refugee settlements and government establishments of the entire district.
All wine shops of Bomdila, Tenga & Rupa markets shall remain closed.
Entry of arms/lethal weapons into district and carrying of arms/lethal weapons by any person within the district is strictly prohibited.
Checking of vehicles entering the district and maintenance of vehicle entry register at all police check points.