Tibetan Activists Stage Massive Show Against Chinese Foreign Minister in Delhi
Tibetan activists under the leadership of Students for Free Tibet, India staged a massive show of protest against the visiting Chinese Foreign Minister in the capital city of New Delhi on Friday. The Tibetan activists staged protests through out the day.
The members of Students for Free Tibet, a non profit organisation campaigning for Tibetans' fundamental right to political freedom around the world, displayed a massive banner reading 'China Out of Tibet' on the fly over bridge through which the Chinese Foreign Minister Wang Yi was scheduled to cross.
The SFT National Director in India is quoted as saying, "For the last three years Tibet has been ranked as one of the least free nation of the world only second to Syria. The media forum inauguration by Wang Yi is a complete hypocrite. As the Chinese citizens are controlled by state media thus allowing no information from outside world. China has been implementing an authoritarian tech dystopia, an A.I.-based surveillance technologies to police its 1.4 billion people thus making it easier to restrict any kind of activities in political nature which could be a threat to the very existence of Chinese Communist Government."
12 Tibetan activists were arrested after staging another massive protest in front of Pravasi Bharatiya Kendra just 15 minutes before the Chinese Foreign Minister Wang Yi arrival at the Gala Event, which was preceded by an unwelcoming banner action late at night today. The protesters shouted slogans demanding Freedom for Tibet.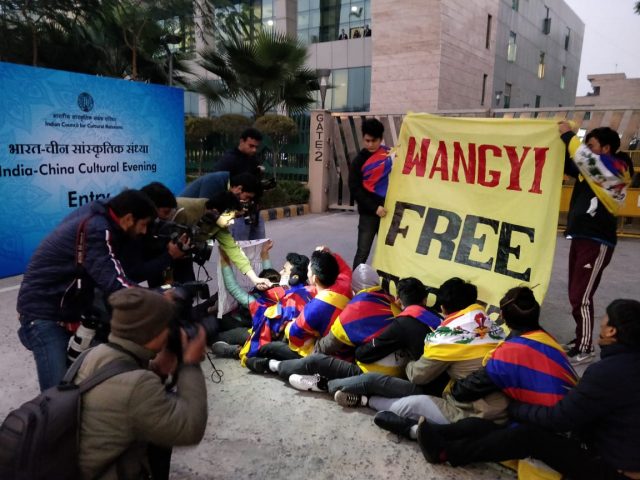 Wang Yi is currently in Delhi to jointly inaugurate the high-level India-China people-to-people exchanges mechanism with External Affairs Minister Sushma Swaraj.