Let His Holiness the Dalai Lama Go Home: US Congressman To China
A senior US congressman has called on China demanding them to let the Tibetan spiritual leader His Holiness the Dalai Lama go home to Tibet while speaking in the House of Representatives in Washington D.C. on Thursday. The United States lawmaker told that His Holiness has the right to return to his homeland whether to stay or visit.
Speaking on the Dalai Lama and Tibet during a special order period in the House of Representatives yesterday, Representative McGovern said according to the report in the official website of Central Tibetan Administration, "Today, I call on China to follow a different path. I call on the Chinese authorities to affirm the right of the 14th Dalai Lama to return to his homeland, whether to visit or to stay. I call on them to welcome him home, afford him the respect he deserves as a man of peace, and sit down with him to resolve Tibetan grievances so as to prevent the deepening of tensions and eruption of conflict."
Representative McGovern who is a senior House Democrat and co-chair of the bipartisan Tom Lantos Human Rights Commission asserted that His Holiness is an integral part of the solution to Tibetan grievances and his "undeniable legitimacy" as "the spiritual leader of Tibetans worldwide would be of great benefit were China willing to restart the dialogue that has been suspended since 2010."
"They (China) seem to believe that with his eventual, inevitable death, they will be assured of consolidating their hold on Tibet. I would not be so sure. Today, all around the world, we are seeing the consequences of the repression of religious and ethnic minorities. For the Chinese, there is still time to recognize that inclusion and respect for the human rights of Tibetans offer the best path to security," the congressman added in his statement.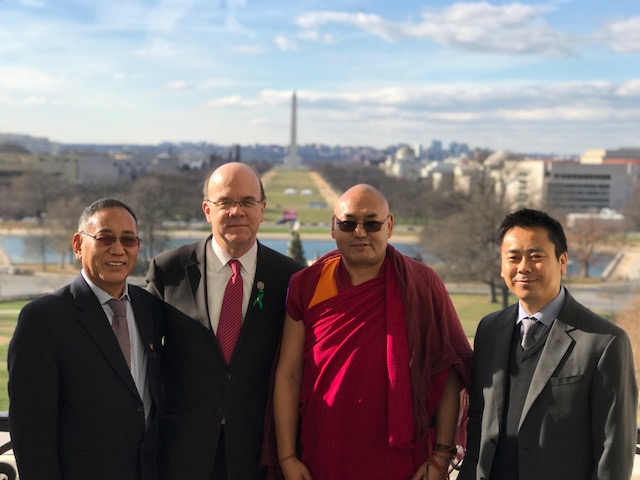 Jim McGovern made the statement with the title of "Let His Holiness the Dalai Lama Go Home" and the house proceeding was witnessed by Speaker of Tibetan Parliament-in-Exile, Khenpo Sonam Tenphel and Representative Ngodup Tsering, Office of Tibet, DC.